Welcome the the Camaro Heritage Page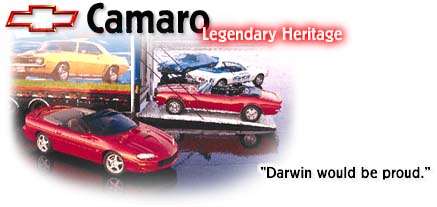 ---
SS. Camaro. Taken to itís logical extreme.

Even among Camaros, the SS Coupe and Convertible are unique, rare, and destined to be especially collectable. They are also formidable performers. The SS Convertible shares the 320 hp, LS1 high-output engine, 17-inch wheels (with Goodyear Eagle F-1 tires) and functional hood scoop with the SS Coupe. Other standard features include a special SS rear deck spoiler, High Performance Ride and Handling Package and, low-restriction exhaust system. Technically, SS is a Z28 Performance Appearance option. Think of it as the extreme Z28. Click here for larger photo

Back iní67, the SS Coupe and Convertible were the absolute top-of-the-line Camaros. They still are.

Z28. Everything else is just pretending.

From the striped, spoilered, collectible í67 to the latest 305 horsepower LS1 edition, Camaro Z28 is a legend on the street and on the track. Todayís Z28 boasts all the right hardware -- 4-wheel disc brakes with ABS, new heavy-duty Zexel-Torsen differential with a limited slip rear axle, special sport suspension, and, of course, that high revving V8. A 4-speed automatic transmission is standard; a 6-speed manual is a no-cost option.

Camaro Z28 has always been known for teaching the competition a thing or two about performance. For 1999, thereís another lesson in store.
If racing improves the breed, it doesnít get much better than this. A Camaro is not mere transportation. To the Kendall and Copenhagen racing teams, itís a funny car thatís one of the hottest competitors on the NHRA circuit. To the Bragg-Smith driving school, itís the perfect machine for teaching the art of performance driving. And for police departments across the USA, Camaro is the ultimate performance vehicle.
When Camaro is put to these extreme tests, we learn a lot. And that makes the Camaro you drive an even better sports car.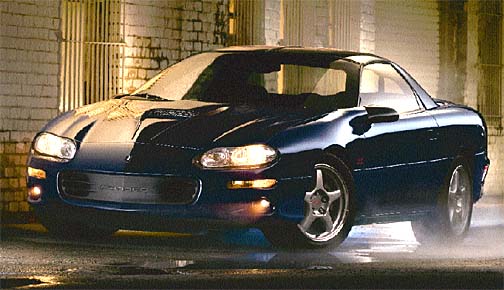 ---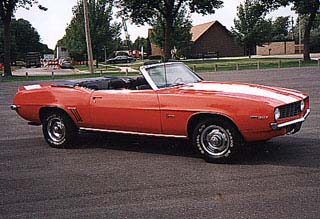 A 1969 SS350 Camaro Convertible...
A 1999 SS Camaro from SLP.
---
by Chevrolet.

Visitor #
.